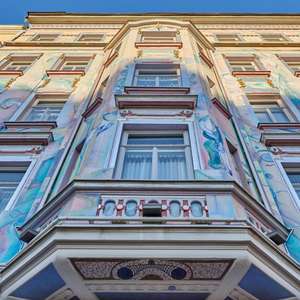 Imagine a mere 15-minute stroll from the awe-inspiring St. Stephen's Cathedral and you find yourself at the doorsteps of the House of Time - Fancy Suites, gracefully tucked away in the chic Karmeliter Market in Vienna's 2nd district. This private sanctuary is an architectural gem from the 19th century, housing impeccably designed 5 suites, each with a distinct personality and equipped with modern comforts.
Every suite is air-conditioned and adorned with an Apple flat-screen TV complete with satellite channels and Netflix for your entertainment. Ensuite bathrooms are appointed with a soothing rain shower and luxurious Chopard cosmetics. You can also find a laptop safe, a Nespresso coffee machine and tea facilities to cater to your every need.
Depending upon your choice of suite, you can enjoy amenities such as your very own sauna, a stocked bar, a private balcony or a terrace. A refrigerator chock-full of both alcoholic and non-alcoholic beverages is also at your disposal, as are free high-speed WiFi and parking.
Start your day with a gourmet breakfast, sourced from the market and served in the comfort of your suite. The House of Time also features a professional kitchen, a meditation room and a parlour for your convenience. The iconic Graben Street is barely 1.2 km from the property and the Vienna International Airport is just 17 km away. Your sumptuous stay in Vienna awaits.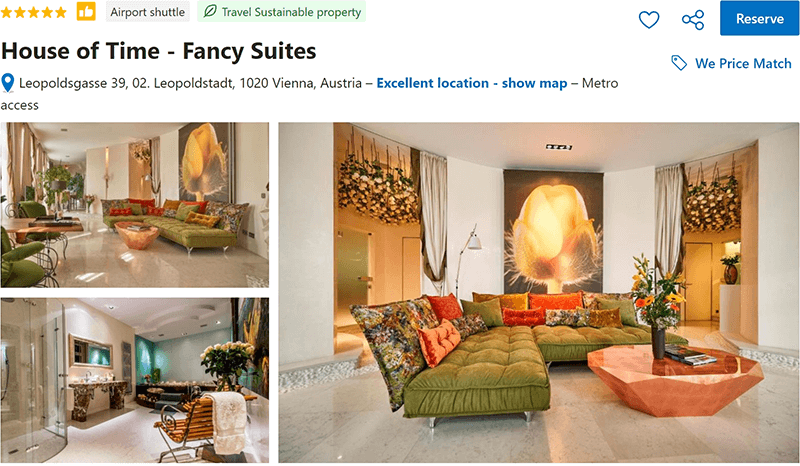 HASHTAGS
#HouseOfTimeVienna #FancySuitesVienna #ViennaStay #LuxuryInVienna #ViennaAccommodation #ViennaExploration #UniqueStays #ViennaCharm #SuiteLife #AustrianAdventures #ViennaTravelDiaries #ViennaLuxuryStay #HouseOfTimeExperience #ViennaUncovered #OffbeatVienna