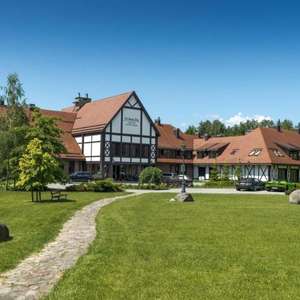 Embarking on a leisurely journey into the heart of the Masuria district, one is bestowed upon the resplendent Hotel SPA Dr Irena Eris Wzgórza Dylewskie. Each room is a haven of tranquillity, equipped with an LCD satellite TV and complimentary Wi-Fi, featuring bright, air-conditioned interiors adorned with classic wooden furniture in invitingly warm hues.
Every accommodation has been thoughtfully designed with a work desk, a minibar, and an electric kettle to ensure your utmost comfort. The hotel is a sanctuary of relaxation, boasting five indulgent hot tubs and two indoor swimming pools.
The hotel invites guests to unwind in an array of wellness facilities that includes a sauna and a spa centre, offering a variety of treatments and massages. An on-site children's playground is also available for the little ones to enjoy.
This luxurious retreat encourages active leisure, providing bicycles and Nordic walking sticks. The Eris Wzgórze Dylweskie even caters to equestrian enthusiasts with a stable and riding equipment. A fitness centre is at your disposal and children are entertained with weekend activities in the kids club. Evening music events are scheduled for adults, ensuring a delightful end to your day.
Your culinary journey is well catered for with two exquisite restaurants, a café and a club that springs to life in the evenings. The restaurants serve an eclectic mix of local, Polish and international dishes, all prepared according to the principles of the slow food movement, ensuring a gastronomic experience that is both authentic and exquisite.