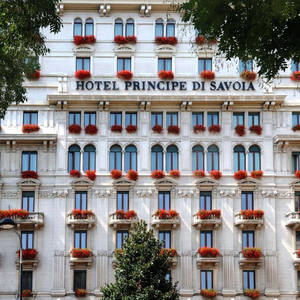 Perched atop its regal structure, Hotel Principe Di Savoia - Dorchester Collection boasts a luxury spa, just a stone's throw away from Milan's buzzing Repubblica Metro and Train Station. Adorned with an elegant classic design and opulent furniture, the hotel's rooms offer more than just space - they offer a refined experience.
The guest quarters at the Principe Di Savoia Hotel are a nod to tradition, with dark-wood furniture and deluxe fabrics setting the stage. Everything, from the cozy bathrobes and slippers to the LCD TV replete with satellite channels, is designed with the comfort of discerning guests in mind.
Every morning until 11:00, the Hotel Principe lays out an American buffet breakfast that is nothing short of a feast. At the restaurant, Milanese specialties meet Italian classics, creating a culinary experience that transcends borders. The lounge bar, meanwhile, serves up international cocktails until the wee hours.
The Spa is a sanctuary that includes a sauna, Turkish bath, and a pool adorned with frescoes - a true testament to luxury. The Principe Di Savoia's staff is always at your service, ready to book tickets or arrange a free limousine ride to the city center.
Attractions such as the Rho Fiera Milano Exhibition Center are within 9.3 mi of this luxury property. Furthermore, the vibrant Piazza Ge Aulenti square and the trendy Porta Nuova area are within 3117 feet of the hotel, ensuring guests are never far away from the heart of Milan.