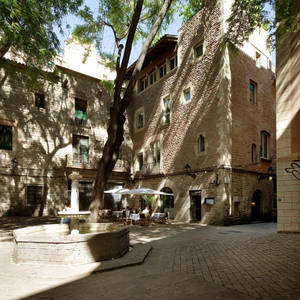 Imagine stepping into an 18th-century aristocratic house, transformed into a luxurious hotel, nestled in an intimate square in the heart of the Gothic Quarter. This is a place where modern elegance meets historical grandeur, a stone's throw from the city's Cathedral, and a brisk walk from the vibrant Las Ramblas. Welcome to the Hotel Neri.
As you wander through this extraordinary hotel, you can't help but admire how the building's original charm has been preserved and accentuated with a sophisticated interior design. The blend of contemporary style with classic elements, along with soothing music and tantalizing aromas, creates an unforgettable ambiance in this ancient, atmospheric corner of central Barcelona.
And if you're a foodie, you're in for a treat. From dining on exquisite specialties in the hotel restaurant to sipping on a drink at the terrace bar, the experience is nothing short of delightful. For moments of tranquility, look no further than the serene library or the enchanting rooftop garden terrace.
Hotel Neri Relais & Châteaux boasts an impressive façade that opens onto Sant Felip Neri square. The lounge bar area of the restaurant is separated by a 17th-century stone wall, adding to its historical charm. This architectural gem is recognized as a Specialty Monument.
For a more home-like experience, Hotel Neri also offers apartments located mere yards away in a beautifully restored classic building. For more details, please refer to the individual apartment description.