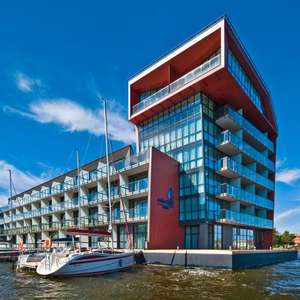 Imagine a 5-star sanctuary nestled within the enchanting Ptasia Island and a peninsula on Mikołajskie Lake. Let me introduce you to Hotel Mikołajki, a luxury oasis that opens its doors to a world of relaxation and indulgence. Here, you can slip into the calming waters of the swimming pool or embark on a journey of rejuvenation at Świat Saun, a wellness complex that boasts a plethora of saunas, steam bath, a hot tub, and sensation showers.
But the journey doesn't end there. Retreat to the comfort of their elegant, air-conditioned rooms, where free Wi-Fi and a complimentary bottle of water await. Each spacious room is thoughtfully designed with a plush sofa, a fridge with minibar, a safe, and a TV with satellite channels. The bathroom is a haven in itself, equipped with a shower and bathrobes.
The hotel's 24-hour reception ensures your needs are met at all hours. Step out onto the terrace and allow your eyes to feast on panoramic views of the lake. Need a touch of opulence? You can rent a luxury yacht at a surcharge. As the sun rises, delight in a breakfast spread at the hotel restaurant that seamlessly blends modern international dishes with regional products. When the stars come out, the bar and nightclub, complete with a pool table and a bowling alley, come alive.
For those who wish to venture out, Tałty Lake is just 500 metres away. Hotel Mikołajki truly is a world in itself, offering a luxurious retreat from the bustle of everyday life.