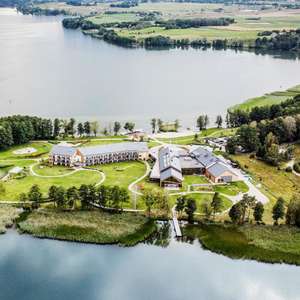 Perched on a peninsula overlooking the breathtaking Wulpińskie Lake, the Marina Club Hotel offers the epitome of 5-star luxury. This opulent haven comes complete with complimentary access to top-notch amenities, ranging from a fitness club to a collection of swimming pools, inclusive of a charming outdoor mini pool. Guest can also unwind in the hotel's saunas, steam baths and hot tub, offering an unparalleled relaxation experience.
The hotel's rooms are designed with an elegant Scandinavian flair, using natural tones to create a tranquil atmosphere. Each room is air-conditioned and spacious, equipped with a flat-screen TV, a safe and a private bathroom complete with a shower and a hairdryer. The rooms also feature balconies offering stunning lake views, while those on the ground floor come with terraces.
For those seeking outdoor activities, the Marina Club Hotel boasts a private beach, a garden, and various leisure activities such as bowling, billiards, and for an additional fee, tennis or boules. Guests can also rent bicycles or Segways to explore the surroundings. The hotel spa centre offers a wide selection of massages and beauty treatments for those seeking a pampering experience.
During the summer months, guests can further immerse themselves in lakeside living by renting water equipment like kayaks, sailboats and electric boats from the hotel's private beach. The gastronomic journey is not to be missed either, as the hotel's Biofonda restaurant serves a tantalising array of regional and traditional Polish dishes. For a more laid-back atmosphere, the Flauta lobby café offers a picturesque lake view, perfect for a relaxing afternoon.
Just 9 km from the vibrant city of Olsztyn and a stone's throw away from a golf course, the Marina Club Hotel presents the perfect blend of relaxation and adventure for its discerning guests.