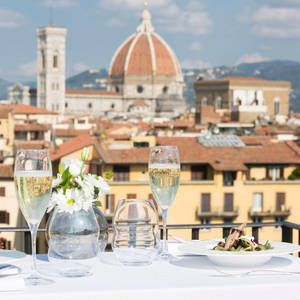 Imagine a dreamy Italian escape, where you can rest your eyes on the serene Arno river and the enchanting Ponte Vecchio of Florence, which lies merely 328 feet away. Well, you need not rely on your imagination any longer as I introduce you to the Hotel Lungarno. This haven of luxury ensures you stay connected, offering complimentary WiFi throughout, and who can resist the allure of a Michelin-starred dining experience?
This gem is owned by the Ferragamo family and they certainly know style. The property is a nonsmoker's paradise, adorned with contemporary original art and 20th-century masterpieces, including works from Picasso and Cocteau.
Immerse yourself in the soothing blue tones of the rooms, each one unique, boasting a décor that is a blend of elegance and charm. The private bathroom is replete with Salvatore Ferragamo toiletries, and the majority exude the sophistication of Italian white marble.
Indulge your palate at the Borgo San Jacopo restaurant, a name recognized by the most discerning restaurant guides and known for its traditional, yet creative cuisine. Looking for a place to unwind? The Picteau Lounge Bar, open from noon to 11 pm, offers lunch, snacks, aperitifs, and dinner.
Location is everything, and Hotel Lungarno doesn't disappoint. Just take a leisurely stroll, and you'll find yourself amidst all the famous sights and sounds of Florence. Cross the bridge, a mere 164 feet away to explore the little jewelry stalls of the Ponte Vecchio, before setting off to visit the city's historic churches or museums.