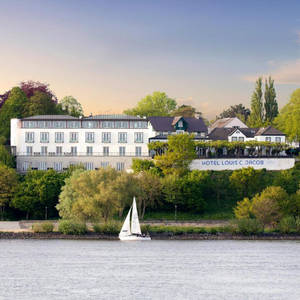 Imagine a heavenly 5-star hotel, gracefully perched on the banks of the River Elbe, boasting of opulent rooms equipped with complimentary WiFi, a sophisticated restaurant that satisfies your culinary cravings and a luxurious spa that invites you to unwind. This isn't just any hotel - it's the splendid Hotel Louis C. Jacob, a grand dame of over 200 years.
Every room and suite here is a lesson in elegance. From the polished wooden flooring that whispers stories of yesteryears, to the hand-woven rugs that add a touch of warmth. Walk-in wardrobes lend a touch of celebrity-style luxury, and the Nespresso coffee machine is ready to perk up your mornings. And if you're fortunate, your room may even offer mesmeric views of the River Elbe.
The Jacobs Restaurant is another feather in this hotel's cap - a symphony of modern cuisine with a hint of French influences, residing under crystal chandeliers, surrounded by stunning wall paintings and ornate stucco ceilings. The grandeur of the restaurant is only enhanced by the breathtaking views of the linden terrace and the River Elbe. A meal here isn't just dining, it's an experience.
And if you're keen on exploring the surroundings, rental bicycles are readily available. The Hochkamp S-Bahn Station, the serene Jenisch Park and the beautiful Hirsch Park are all just a leisurely 15-minute stroll away.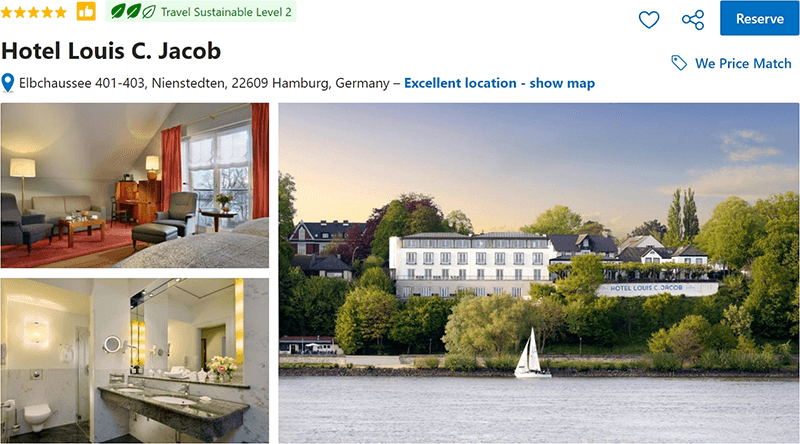 HASHTAGS
#LouisCJacob #HamburgHotel #LuxuryHamburg #GermanGetaway #BoutiqueHotel #ElbeRiverView #HamburgLuxuryStay #JaccobsHotel #FiveStarHamburg #HamburgHospitality #HamburgEscape #GermanElegance #ChicStayHamburg #SophisticatedSojourn #HamburgHighLife