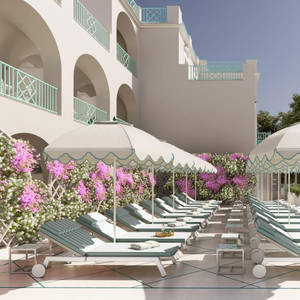 Embodying a history steeped in elegance since 1822, this sumptuous hotel finds its home in the beating heart of Capri, a mere 328 feet from the island's renowned La Piazzetta Square. Imagine basking in the panoramic views from the rooftop terrace, dining in the restaurant, or unwinding in the air-conditioned rooms, each boasting a flat-screen satellite TV.
Wrap yourself in the soft towels and slippers awaiting you in every room at Hotel La Palma Capri, a jewel in the Oetker Collection Hotel's crown. Each room offers a mini-bar and a fully equipped private bathroom. You may even find yourself in a room adorned with frescoed walls and traditional tiled floors.
Every morning, you can indulge in a generous continental breakfast. Imagine a feast of freshly baked pastries, cold meats, and cheeses to start your day. For dinner, the restaurant tempts you with classic Mediterranean cuisine, paired with a selection of regional wines.
When you're ready to explore, boats to mainland Italy depart from Marina Grande, a short 1.7 mi from La Palma. The journey from the island to Naples is a mere 40 minutes by hydrofoil, or 80 minutes by ferry. So, whether you're in the mood for relaxation or adventure, this hotel has it all.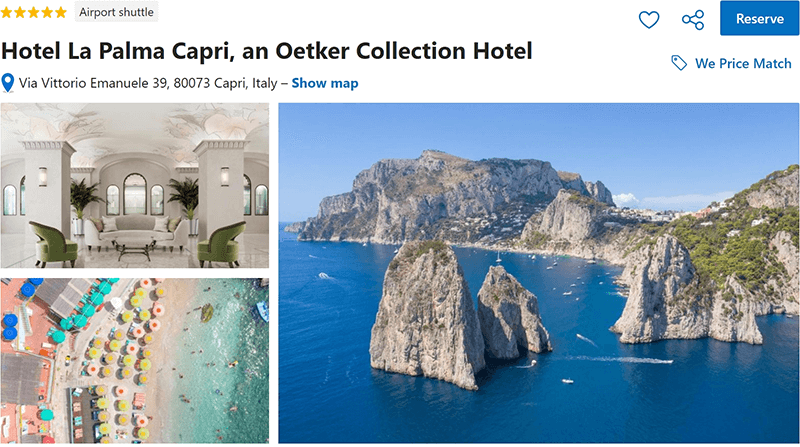 HASHTAGS
#HotelLaPalmaCapri #CapriIsland #ItalianLuxury #CapriVacation #IsleOfCapri #CapriExperience #ItalianGetaway #ChicStay #IslandHotel #CapriCharm #LaPalmaLuxury #CapriElegance #ItalyTravel #LaPalmaCapri #CapriScenery #UnseenCapri