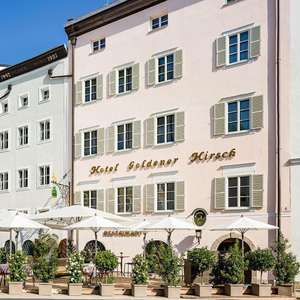 A stone's throw away from the birthplace of Mozart, nestled in Salzburg's renowned Getreidegasse, lies the Hotel Goldener Hirsch - a Luxury Collection Hotel, Salzburg. It's an establishment that echoes history and grandeur, a 15th-century building directly facing the Festival Hall. And yes darlings, they offer free WiFi throughout the property.
Get ready to be transported to a different era as you step into your room. Each room is a love letter to classic Austrian style, adorned with antiques and handcrafted furniture. And to ensure that your stay is as comfortable as possible, the entire hotel is a smoke-free zone.
At the Goldener Hirsch's restaurant, you can indulge in a culinary journey that spans both Austrian and international cuisine. If you're in the mood for something a tad more traditional, then Restaurant Herzl is the place to be. They serve classic Salzburg dishes that are sure to tantalize your taste buds.
And what's a luxury hotel without a stylish bar? Bar Goldener Hirsch serves an extensive choice of drinks, making it a popular rendezvous spot with a touch of elegance. For those who prefer a quiet corner, there is a library and a complimentary computer to use at your leisure.
What truly sets the Goldener Hirsch apart, however, is its exceptional location. The magnificent cathedral, the imposing Hohensalzburg Fortress, and all the major attractions of Salzburg are just a short stroll from the hotel. So, are you ready to immerse yourself in this historical and cultural gem?