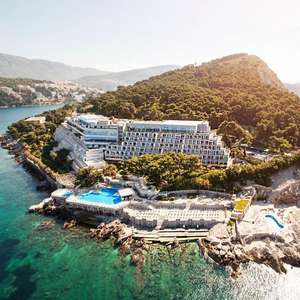 Positioned delightfully on the Lapad Peninsula, Hotel Dubrovnik Palace presents guests with a beach and a scuba diving centre to explore. The recent refurbishment has transformed all rooms into a celebration of sleek design and earthy colours. Each room comes with a balcony that offers breathtaking views of the Elaphite Islands.
Guests can expect luxuries such as complimentary Wi-Fi, air conditioning and high-end toiletries as standard in all rooms. Furthermore, each room is equipped with a flat-screen satellite TV and a minibar, ensuring a comfortable stay.
The hotel boasts a selection of four distinct restaurants, including an exquisite beach restaurant. For those in need of a refreshing drink or a light snack, the pool bar is at your service.
For guests eager to explore the Old Town, there is a local bus line departing every 20 minutes right across from the hotel, with the journey taking approximately 20 minutes.
When it comes to relaxation, the spa facilities at the hotel promise an indoor pool, a hot tub and a steam bath. For those who prefer an active lifestyle, a fitness studio is available, and several jogging paths can be found nearby.
Lastly, to ensure a seamless experience, Hotel Dubrovnik Palace offers a 24-hour room service for all guests.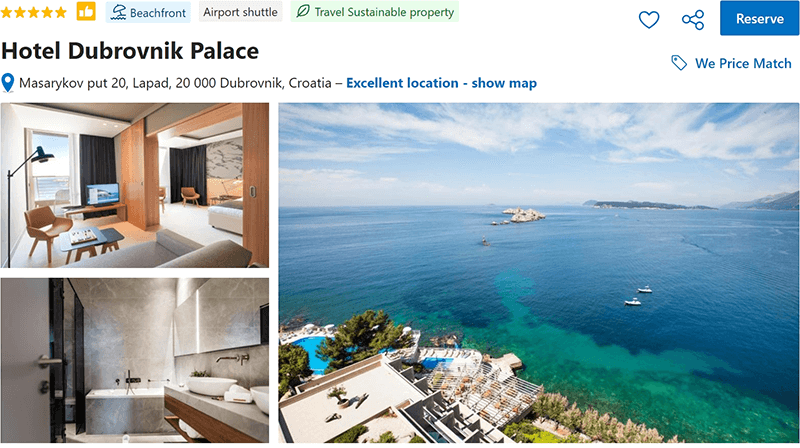 HASHTAGS
#HotelDubrovnikPalace #DubrovnikExperience #CroatianBeauty #AdriaticLuxury #PalaceStay #DubrovnikAdventures #CroatiaTravel #LuxuryAccommodation #HistoricDestination #SeasideEscape #BalkanBeauty #DubrovnikPalace #CroatianHotel #AdriaticHotel #PalatialStay