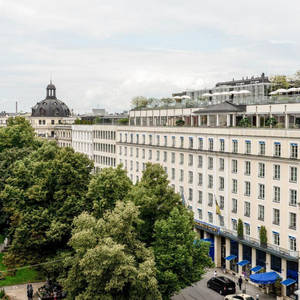 Set right in the heart of Munich's chic shopping district, this historic 5-star hotel is quite the gem. It boasts 5 top-tier restaurants, 6 stylish bars, and an exclusive spa completed with a rooftop pool. The Hotel Bayerischer Hof is not just a place to stay, but a grand experience to remember.
Each room and suite is a delight, boasting original designs that range from cosmopolitan chic to colonial elegance. All are equipped with high-speed WiFi and air conditioning. To sweeten your stay, a complimentary fruit basket and a bottle of mineral water are included.
The Blue Spa, exclusive to the Hotel Bayerischer Hof, is a haven of relaxation. It offers a spacious sauna area, a gym with panoramic city views, and a beauty salon. The hotel's unique Cinema Lounge sets the perfect stage for company presentations or private celebrations.
When it comes to dining, the hotel outdoes itself. The Polynesian-style Trader Vic's restaurant and the 2-Michelin-star Atelier Restaurant are culinary experiences not to be missed. Delectable drinks can be enjoyed at the iconic falk's Bar, as well as the Blue Spa Bar & Lounge.
The hotel's location is unbeatable. Just a 5-minute walk away are sights like the Bavarian State Opera and the Hofbräuhaus Beer Hall. Private parking spaces are also available, adding to the ease and convenience of your stay.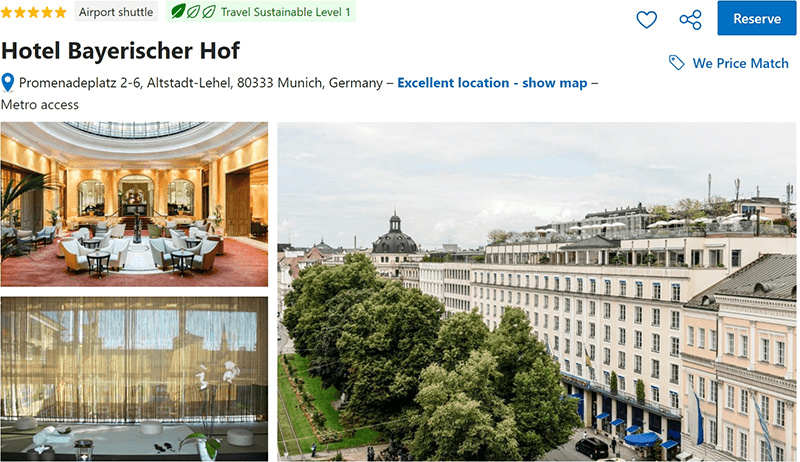 HASHTAGS
#BayerischerHof #MunichTravel #GermanyAdventures #BavarianExperience #LuxuryStayMunich #GermanHotels #MunichAccommodation #BavarianHotels #LuxuryInMunich #BayerischerHofMunich #MunichLuxuryStay #StayInMunich #MunichGermany #BavarianLuxury #ExperienceMunich