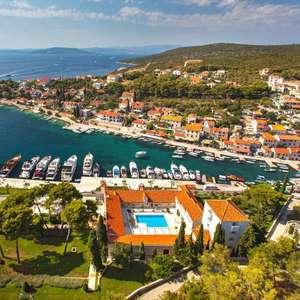 Stepping into the heart of the Mediterranean, you'll discover a hidden gem nestled on Solta Island - a 300-year old castle, now known as the Heritage Hotel Martinis Marchi. Each suite is a luxurious retreat, offering not only complimentary Wi-Fi but also air conditioning, LCD satellite TV sets, and minibars. What sets each suite apart is their unique charm, their individually curated decor, and the breathtaking bay views that greet you each morning.
The fine furniture, carefully handpicked from various European cities, has been skilfully restored to maintain the castle's vintage charm. The Le Château Restaurant, a gastronomic delight, serves up typical Dalmatian fish specialities, perfectly paired with outstanding red wines from the hotel's own cellar. The sun terrace, often filled with the soft notes of live music, is another delightful dining option.
This isn't just a hotel - it's a 5000m² garden paradise, complete with its own heliport. For your convenience, boat and taxi services are readily available, offering transport to Split Airport and the nearby islands.
Behind the heritage stone façade of Hotel Marchi's, you'll find 2 saunas, a spacious lounge area, and a relaxation room complete with a piano. Whether you choose to unwind by the heated pool or take a leisurely stroll in the vast garden, relaxation is never too far away.