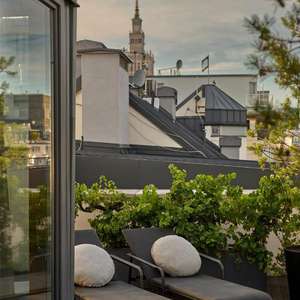 Ensconced in the heart of Warsaw, the illustrious H15 Boutique Hotel, laden with five-star accolades, is steeped in history. Once the dwelling of the Soviet embassy in its pre-war heyday, this majestic edifice has earned its stripes, bagging impressive honours from Michelin and Forbes in 2018.
Guests are welcomed into chic apartments, each boasting complimentary Wi-Fi, a coffee maker, and contemporary, air-conditioned interiors. These plush quarters provide ample space for relaxation, complete with a LED TV offering a medley of satellite channels for your viewing pleasure. A handful of these dwellings even feature an inviting balcony and rest assured, all are equipped with a safety deposit box for your precious belongings.
Pokračovat ve čtení
Each apartment comes furnished with a handy kitchenette, equipped with a Nespresso coffee maker and complimentary Fair Trade coffee. Bathrooms are tastefully outfitted with stone finishes and complimentary toiletries, adding a touch of opulence to your stay.
Food lovers will delight in the hotel's Signature Restaurant. Lauded by the Michelin Guide, it serves a delectable array of international cuisine. For those looking to unwind with a drink, the hotel's bar serves as the perfect spot.
The H15 Boutique Hotel's prime location places it a mere 200 metres from a smorgasbord of restaurants and pubs. The Metro Centrum Station is within easy reach, just 750 metres away, while the Central Train Station is a brief 950 metres from the hotel.