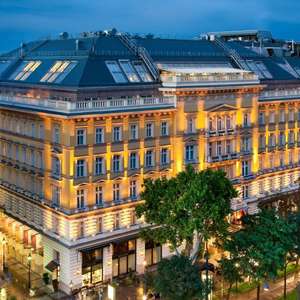 Imagine a decadent retreat a mere 3-minute jaunt from Vienna State Opera and the renowned Kärntner Straße Shopping Street. This is the world of the Grand Hotel Wien, a place of grandeur and opulence, offering 5 exquisite restaurants, 2 refined bars, a sumptuous spa area, and a rooftop terrace with sweeping views of Vienna's skyline. To top it all off, valet parking and complimentary WiFi are also provided.
Every room and suite within the Grand Hotel's magnificent historical building is a testament to luxury and elegance, furnished with chic furniture, state-of-the-art flat-screen TVs boasting an array of international channels, and coffee making amenities. The marble bathrooms, complete with plush bathrobes and slippers, feature dual washbasins, adding to the overall sense of grandeur.
A world of relaxation awaits at the expansive 200 m² Grand Spa N°605, where guests can indulge in a range of wellness facilities. These include a complimentary sauna and steam bath, a secluded ladies-only area, a tranquil relaxation zone, and a cardio area outfitted with cutting-edge equipment. A vast array of beauty and massage treatments are also available for an additional charge.
Delicious gastronomic experiences await, from the traditional Japanese delicacies at the "Unkai" restaurant to the Michelin-starred culinary wonders at "Le Ciel by Toni Mörwald". The Kavalier Bar offers a selection of fruity cocktails, while the award-winning Grand Brasserie serves up typical Viennese specialities. The hotel also houses the Rosengarten Lobby Café with an outdoor patio, and the Unaki Bar & Sushi.
Guests are also privy to an array of complimentary services, including a business centre, shoe-shine service, and a welcoming bottle of mineral water upon arrival. For business meetings or events, the hotel offers twelve versatile meeting rooms and the "Quadrille", one of Vienna's largest ballrooms.