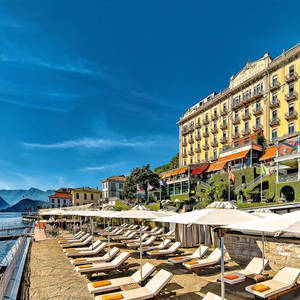 Perched on the edge of the picturesque Lake Como, the Grand Hotel Tremezzo serves as an enchanting window to the breathtaking views of Bellagio. A stone's throw away from the illustrious Villa Carlotta and its lush botanic garden, this luxurious abode offers an exquisite blend of timeless elegance and modern comfort.
Each room and suite at the hotel is a sanctuary of tranquility, adorned with tasteful decor, complimentary WiFi, and air conditioning for maximum comfort. The majority of the rooms offer a mesmerizing view of the lake while select few boast a private terrace equipped with a hot tub.
The hotel's T SPA wellness center offers a haven of relaxation with its sauna, relaxation lounge, and an outdoor hot tub that overlooks the serene lake. Fitness enthusiasts can take advantage of the well-equipped gym, tennis court, and jogging paths enveloped in the verdant park.
Adventurous guests can charter one of the hotel's motorboats for a captivating exploration of the lake's hidden treasures. The gastronomic journey at La Terrazza panoramic restaurant serves an array of fine Italian cuisine. To complement the dining experience, guests can choose from an extensive selection of wine bars and lounges.
Nestled in Tremezzo, the hotel's location enables a short 5-minute walk to the Cadenabbia harbor for enchanting boat trips across the lake. Golf enthusiasts can avail discounts at the nearby Menaggio and Cadenabbia golf clubs, adding another feather to the hotel's cap.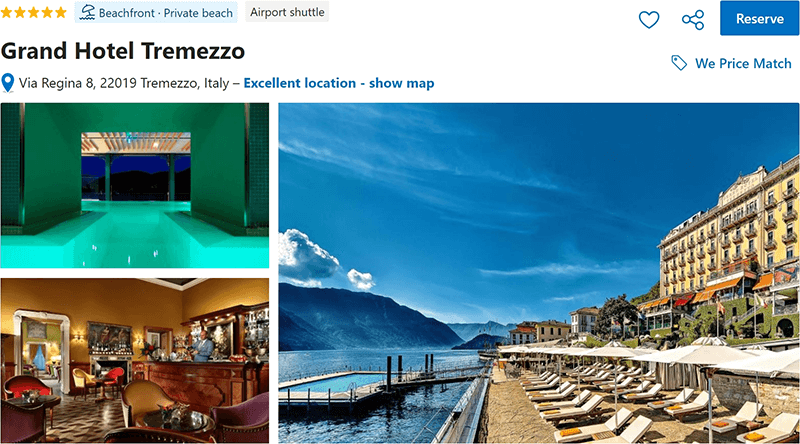 HASHTAGS
#GrandHotelTremezzo #TremezzoItaly #LuxuryStay #ItalianElegance #LakeComo #HistoricHotels #ItalianVacation #BoutiqueHotel #TremezzoExperience #LuxuryHotel #ItalianLandscapes #LakefrontLuxury #EuropeanGetaway #LakeComoStay #ItalianHospitality