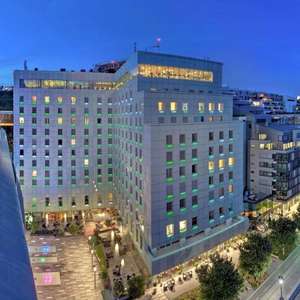 Imagine a place where luxury meets comfort, right in the heart of downtown Bratislava. That's the Grand Hotel River Park for you. Nestled on the serene banks of the river Danube and a mere 35-minute drive from Vienna International Airport, it offers an unforgettable stay in its plush rooms and suites.
Every room at the Grand River Park is a haven of comfort and luxury. With panoramic views of the Danube River or the castle hill, a safety deposit box, a minibar, a flat-screen TV, complimentary WiFi, air-conditioning and a private bathroom, you're all set for a memorable stay.
Adding to the charm is the prestigious Zion Spa Luxury. Located on the 11th floor, it offers breathtaking views of the river and the surrounding countryside. It houses an indoor pool, hot tubs, saunas and a complimentary fitness area, ensuring you have a rejuvenating experience.
For the food lovers, the hotel's restaurant is a delight. Serving breakfasts, lunches, and dinners, it is located on the ground floor, offering a beautiful view of the Danube promenade. And don't miss out on the lobby bar, with its wine cellar, perfect for a daytime or evening refreshment.
The hotel's uniqueness also extends to its very own heliport on the rooftop and a private river pier. The Grand Hotel River Park, indeed, is an experience in itself.