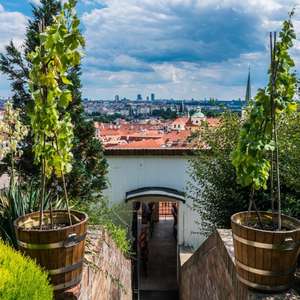 Imagine being in the heart of Prague, at the charming Golden Well boutique hotel, right next to Prague Castle. Just a leisurely 7-minute stroll to the Charles Bridge and a mere 3-minute walk to Lesser Town Square. What could be better?
Each room, either offering a picturesque view of Prague's dreamy rooftops or the Royal Gardens, is a haven of comfort. With air conditioning, a minibar, satellite TV and even an Apple TV, you're set for a relaxing stay. And the bathrooms, oh the bathrooms! They come complete with cosy bathrobes and slippers.
Guests are greeted with a refreshing welcome drink and the complimentary shoe-shine service is a nice touch. You'll be pleased to know that free Wi-Fi, a DVD library, luggage packing and unpacking, plus an evening turn-down service are just a few of the luxuries you can expect at the Golden Well hotel.
Head up to the 4th floor and you'll find the restaurant, elegantly adorned with elements of the Renaissance era. The open-air terrace of the Golden Well offers breathtaking views that you can enjoy whilst indulging in a delicious meal. Following lunch, why not take a stroll in the Royal Garden of Prague Castle (open during opening hours).
This Renaissance-style building holds a rich history. Once the residence of the esteemed Emperor Rudolf II (1552-1612) and the renowned astronomer Tycho de Brahe (1546-1601), every corner of this hotel whispers tales from the past.