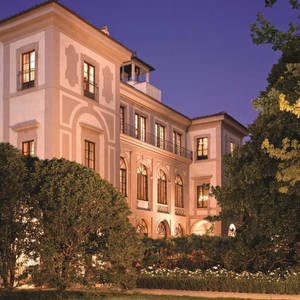 I'm delighted to introduce to you the unparalleled Four Seasons Hotel Firenze, a place where luxury meets history. This magnificent abode, nestled right next to the enchanting Giardino della Gherardesca botanical gardens, boasts an extraordinary 2-floor spa and a Michelin-star restaurant.
As for accommodation, the hotel offers a diverse range of opulent rooms and suites. Each one is spacious, light-filled, and harmoniously blends Renaissance décor with a plethora of contemporary amenities. Expect an LCD TV, a DVD player, bathrobes, and slippers at your disposal, ensuring your stay is as comfortable as possible.
The Four Seasons Hotel Firenze is a remarkable fusion of two historic buildings: the 15th-century Palazzo della Gherardesca and the former 16th-century convent, La Villa. Between these two architectural marvels lie 4.5 hectares of stunning gardens, providing a peaceful oasis amidst the hustle and bustle of the city.
The spa is a haven of tranquility, featuring 9 beauty treatment rooms, a Turkish bath, a gym, and even opens out onto an upper terrace complete with a pool and hot tub. It's the perfect place to unwind and rejuvenate.
The hotel's main restaurant, Il Palagio, is a culinary delight. Using locally sourced produce, the chefs skillfully craft the finest Tuscan dishes. For a more casual dining experience, check out the seasonal Al Fresco pizzeria.
With such a prime location, cultural experiences are never far away. Florence Cathedral, along with the renowned Uffizi and Accademia art galleries, are just a 15-minute stroll away.