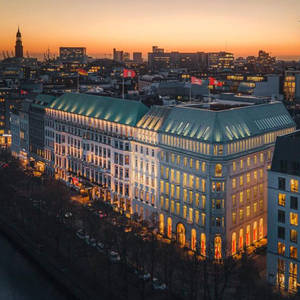 Imagine a lavish 5-star retreat, nestled on the beautiful Alster Lake, right in the pulsing heart of Hamburg - welcome to the Fairmont Hamburg. From gourmet cuisine to complimentary WiFi, this hotel is an epitome of luxury, complete with an opulent spa and fitness club.
The rooms at the Fairmont Hotel Vier Jahreszeiten are as spacious as they are decadently decorated. Each room comes accessorised with an espresso machine, flat-screen TV, DVD player and a selection of complimentary films, ensuring absolute comfort and convenience for its guests.
Start your day with a sumptuous buffet breakfast at the charming Biedermeier-style Café Condi, and treat yourself to delicious afternoon cakes. For dinner, make your way to the sophisticated Haerlin restaurant, a proud holder of 2 Michelin stars. Or for a fusion of flavours, the design restaurant Nikkei Nine offers Japanese Cuisine with a South American twist.
The Vier Jahreszeiten Hamburg boasts an array of bars, including a breathtaking lakeside terrace, offering panoramic views of the Alster Lake. Just a stone's throw away is the Gänsemarkt Underground Station, merely 500 meters from the hotel. Make sure to visit the elegant Jungfernstieg shopping street, the Staatsoper Opera and Hamburg's CCH Exhibition Centre - all just a brisk 10-minute walk away.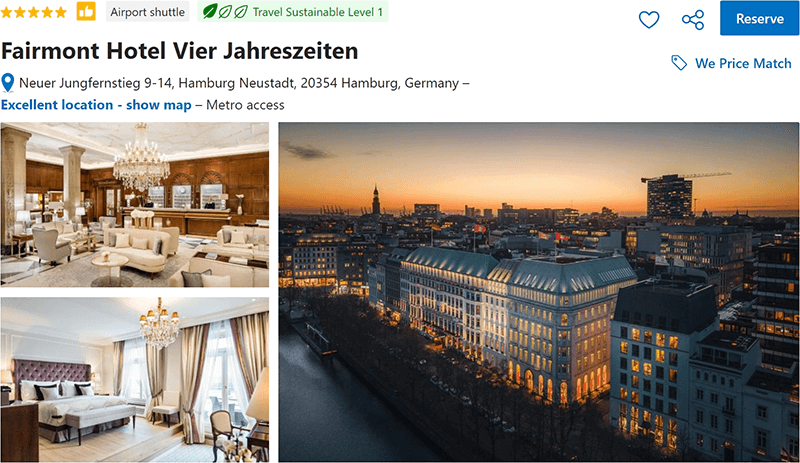 HASHTAGS
#FairmontHotel #VierJahreszeiten #HamburgExperience #LuxuryStay #GermanHospitality #EuropeanTravel #HistoricHotels #LuxuryAccommodation #HamburgSights #GermanyTravel #CityScape #HamburgLuxury #FairmontVierJahreszeiten #TravelGermany #ImmersiveTravel