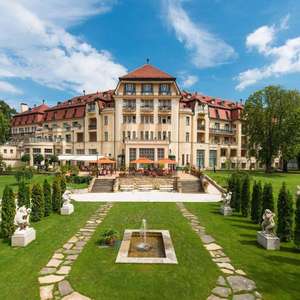 Imagine immersing yourself in the grandeur and opulence of the past in a 5-star spa hotel, the Thermia Palace, nestled in the heart of the charming Spa Island of Piestany. This haven of luxury and wellness boasts a rich history, perfectly mated with contemporary facilities, such as the Irma Health Spa.
As you wander through the beautifully restored Art Nouveau building, you can't help but admire the intricate details of the preserved interior. The weighty crystal chandeliers, the hand-painted stucco decoration, and the original window panes all whisper tales of its past splendour.
With 111 air-conditioned rooms, including 15 suites, each uniquely designed, the Palace caters to every type of luxury seeker. For your convenience, all rooms are equipped with the latest amenities and free wired internet. Depending on your choice, rooms feature either a balcony, a terrace, a french window or an attic window, each adding its own charm to your stay.
But the luxury doesn't stop at the rooms. The Thermia Palace houses several exquisite eateries. The Grand Restaurant for the gourmet in you, Café Alexander for a relaxed rendezvous on a summer terrace with a stunning park view, and the Salon Hubertus, where you can challenge your friends to a game of chess, bridge or any other board game. The Thermia Palace is more than a hotel; it's an experience.