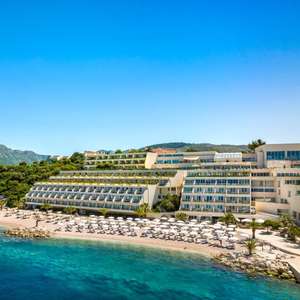 Perched right by the beach, the Dubrovnik President Valamar Collection Hotel boasts an unparalleled beachfront location, offering breathtaking views of the Elaphiti Islands from all its room terraces and balconies. This hotel is a haven for those seeking a slice of Mediterranean paradise, with its wellness centre and award-winning gourmet restaurants on site. Nestled on the picturesque Babin Kuk Peninsula, it promises a truly memorable stay.
The wellness centre, designed with a touch of Mediterranean flair, provides a range of signature treatments, alongside a sauna and hot tub. Complimentary access to this spa and gym facilities adds to the appeal. The hotel presents accommodation in spacious rooms, comfortably furnished and equipped with complimentary Wi-Fi. Each room features a large terrace, offering unrivalled views of the sparkling sea and the enchanting Elaphiti Islands.
Guests can unwind on the pebbly beach right in front of the hotel and make use of the complimentary internet corner available in the lobby. The hotel's Miramare Beach Bistro is a must-visit, where guests can savour exquisite fish dishes prepared following the Mediterranean tradition, all paired with exceptional local wines.
Conveniently located in the immediate vicinity of the hotel is a public bus stop, providing swift connections to the UNESCO-protected Old City, just 6 km away. For families and children of all ages, the much-anticipated Maro World, set to open in June 2023, promises a multitude of entertainment facilities within its 1800 m2 area.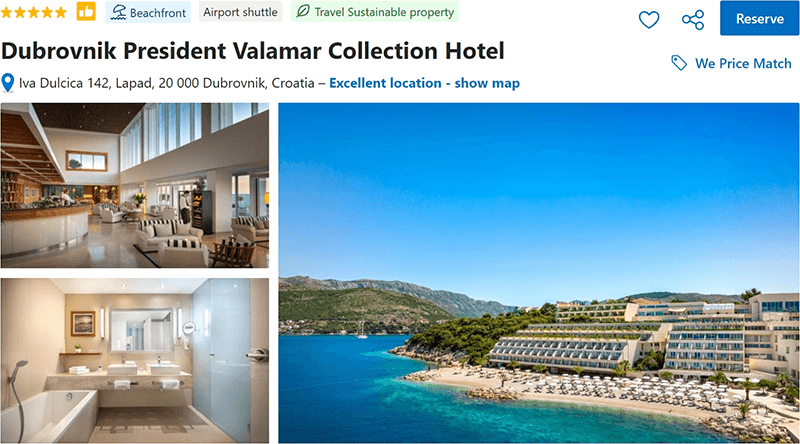 HASHTAGS
#DubrovnikPresident #ValamarCollectionHotel #DubrovnikLuxury #CroatiaHotels #AdriaticResorts #DubrovnikStay #ValamarExperience #BoutiqueHotelDubrovnik #LuxuryLodging #CroatiaTravelExperience #DubrovnikAccommodation #ValamarHotels #DubrovnikPresidentHotel #AdriaticLuxuryHotels #ValamarDubrovnik