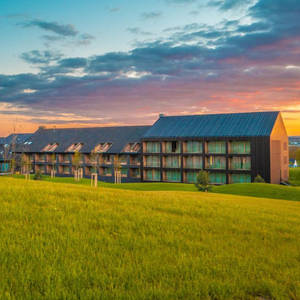 Step into the world of Der Öschberghof, a luxurious fusion of golf, wellness, and conference facilities, nestled amidst the picturesque landscapes of Donaueschingen, a charming locale elegantly perched between the Black Forest, Switzerland, and Lake Constance in the southern part of Germany.
This haven of tranquillity showcases an expansive 45-hole golf course, accompanied by an impressive 5,000 m² spa area, providing a perfect backdrop to unwind and rejuvenate. The rooms at Hotel Öschberghof are the epitome of modern luxury, featuring a myriad of complimentary amenities. Most rooms offer the added luxury of a balcony and air conditioning, ensuring a comfortable and pleasant stay.
A culinary expedition awaits you at the Öschberghof's 4 in-house restaurants, serving a delightful array of regional and international dishes. On warmer days, guests are invited to dine al fresco on the terrace, enjoying the breathtaking views of the golf course.
The spa area is a sanctuary of peace, offering an indoor pool, a selection of saunas, and a gym. Indulge in a variety of massages and cosmetic treatments, designed to soothe your senses and enhance your well-being.
For business travellers, Der Öschberghof offers a tailored conference service. Golf enthusiasts can enhance their skills at the on-site golf academy and indulge in a little retail therapy at the shop selling chic golf fashion and accessories.
The Hotel Öschberghof, a mere 35-minute drive from Lake Constance, offers garage parking facilities. It is an excellent choice for golfers and business travellers, given its strategic location – a convenient 75-minute drive from both Stuttgart and Zurich airports, and a 20-minute drive from the A81 motorway.