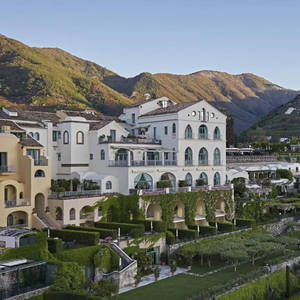 Perched precariously on a cliff, with a breathtaking view of the sea, proudly stands the Caruso, A Belmond Hotel, Amalfi Coast. This opulent hotel is nestled within an 11th-century building, meticulously renovated to maintain its historic charm while offering modern luxuries. The hotel boasts an infinity pool that seems to merge with the sea, beautifully manicured terraced gardens, and interiors that speak volumes of history with their frescoed ceilings.
Guests have the option to select from rooms and suites that either offer a tranquil view of the garden or a panoramic view of the sea. The rooms can be found either in the main building or in the annex located within the lush garden. Regardless of their location, all rooms are equipped with an LCD TV with a CD player, air conditioning, and complimentarily high-speed internet. For those seeking a little extra, some rooms and suites come with a private balcony.
A sumptuous breakfast is served daily at the Caruso, A Belmond Hotel, Amalfi Coast, ensuring a delightful start to your day. For the food connoisseurs, the Belvedere Restaurant offers a gastronomic journey through traditional Italian cuisine. For those seeking a more casual dining experience, the Pool Grill provides the perfect setting for a light lunch and an authentic taste of Italian pizza.
In addition to its luxurious amenities, during the summer months, the hotel offers complimentary boat excursions along the scenic coastline and also a free shuttle service to Amalfi and Positano. It's a place where luxury meets history, and relaxation meets adventure.