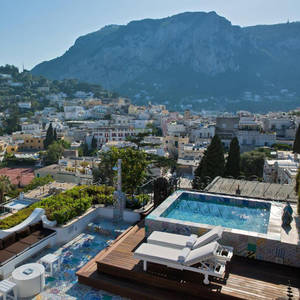 Imagine basking in the splendour of a 19th-century edifice, a mere stone's throw from the heart of Capri's Piazzetta — welcome to the grandeur of Capri Tiberio Palace. Here, opulence meets modernity in the form of elegantly designed rooms, each equipped with an LCD satellite TV for your viewing pleasure.
Feast your eyes on the breathtaking panorama from the rooftop terrace, a sight that is sure to etch itself in your memory. The majority of our rooms boast either a balcony or terrace, offering you a private vista of the azure sea. For your comfort, each room is fitted with air conditioning, a stocked mini-bar and complimentary WiFi, ensuring a seamless connection to the world beyond.
Savour the flavours of the Mediterranean at our on-site restaurant, where each dish is a testament to the rich culinary heritage of the region. The cherry on top? Enjoy your meal on our terrace, taking in the majestic views of the sea. Lovers of contemporary design will appreciate the chic aesthetic of our Jacky Bar, a perfect spot for a nightcap.
Our commitment to your well-being extends to our wellness centre, complete with hammam, sauna, and hot tub. Indulge in soothing massages and rejuvenating beauty treatments, rounding out an experience that truly pampers the senses. At Capri Tiberio Palace, we believe in offering nothing but the best. We look forward to welcoming you.