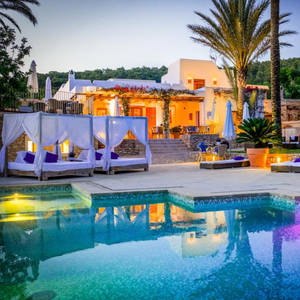 Can Lluc Boutique Country Hotel & Villas, a jewel nestled in the heart of Ibiza, offers an exquisite blend of luxury and tranquility. This picturesque retreat, set in a verdant valley, boasts an inviting outdoor pool and a sublime wellness area, serving as the perfect escape from the hustle and bustle of everyday life.
Each room in this charming hotel is air-conditioned and features a flat-screen satellite TV, a mini-bar, and a kettle, not forgetting the Nespresso coffee machine for those morning caffeine fixes. The bathrooms are lavishly equipped with a hairdryer, bathrobe, slippers, and a delightful array of welcome toiletries. The décor varies from room to room, adding a unique touch to each space. Some rooms offer private terraces, others are adorned with a cozy fireplace or a relaxing hot tub – a beautiful blend of luxury and comfort.
Food lovers are in for a treat at the Can Lluc Restaurant. Specializing in Mediterranean and local cuisine, the restaurant serves a delectable range of dishes prepared with fresh, homegrown produce. The culinary experience is as fresh and authentic as it gets.
The hotel's wellness room is a haven for relaxation and self-care. It features a Finish sauna, a hot tub, and a fitness area. And for those looking for an extra dose of pampering, massages and beauty treatments can be arranged within the hotel premises.
Conveniently located, Ibiza town and San Antonio are a mere 10-minute drive away. Plus, the hotel's easy access to main highways and roads makes exploring the island a breeze.