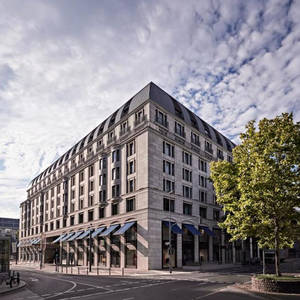 At the heart of Düsseldorf, nestled on the posh Königsallee shopping boulevard, lies a 5-star gem, Jones restaurant, which boasts a repertoire of culinary masterpieces. This enchanting hotel is a sanctuary for those looking for modern spa facilities or a summer terrace where they can soak in panoramic views of the Königsallee.
The rooms and suites at this hotel are a testament to its commitment to comfort and luxury. They come soundproofed and are adorned with high ceilings, offering a telephone with voicemail, and complimentary WiFi access. Some rooms also feature valuable antiques, adding to the charm of this opulent abode.
Expect to be amazed at the vast spa area of this hotel. It is equipped with state-of-the-art fitness gear, a variety of saunas, and a rainforest shower. Complimentary fruits and drinks are also served, making your wellness journey even more enjoyable.
Foodies, get set to be dazzled at the Pink Pepper restaurant. This dining venue, recognized with a star in the MICHELIN Guide 2023, promises an unforgettable gastronomic experience. Under the skilled guidance of Chef Benjamin Kriegel and his creative crew, every dish is crafted with meticulous attention to detail, culminating in a symphony of flavours.
What's more, the Deutsche Oper am Rhein Opera House and the idyllic Hofgarten Park are just a stone's throw away from this hotel. This luxury hotel, undoubtedly, provides the perfect setting for an unforgettable stay in Düsseldorf.