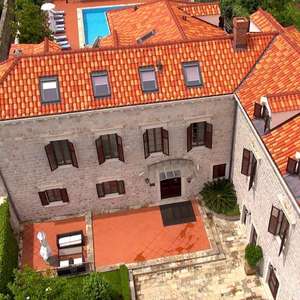 Perched on the edge of the resplendent Gruz Bay and a mere stone's throw from the historic heart of Dubrovnik, this 5-star boutique hotel is a charming haven of luxury. The rooms, a delightful mix of elegance and comfort, boast chic bathrooms that are nothing short of miniature sanctuaries. An enticingly free sauna and outdoor pool are at the disposal of guests, alongside complimentary Wi-Fi and private parking.
Steeped in history, this former 16th-century noble's residence has been lovingly restored to its former glory. The rooms at the Kazbek are generous in space and opulence, each featuring king-size beds, large HD TVs, sumptuously soft bathrobes and slippers, and a range of high-end toiletries.
The in-house gourmet restaurant is a culinary delight, serving up authentic Croatian dishes crafted from the freshest local ingredients. The nearest beach, a perfect spot for a relaxed day, is conveniently located just 800 meters away.
The attentive staff are on hand to arrange car rentals and services such as dry cleaning and laundry facilities. The Dubrovnik Ferry Port and Bus Stop are easily accessible at a distance of 2.3 km, while the airport is 22 km away. A stay here promises to be a memorable one, combining the best of history, luxury, and modern conveniences.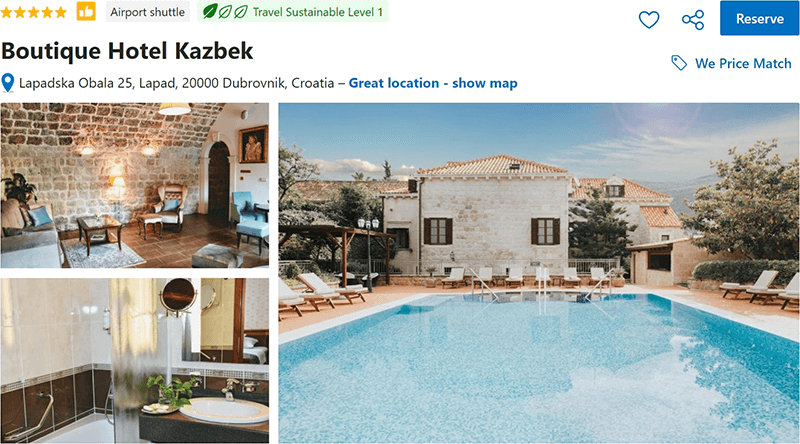 HASHTAGS
#BoutiqueHotelKazbek #DubrovnikLuxury #CroatianHideaway #KazbekExperience #BoutiqueStay #LuxuryInDubrovnik #HistoricHotels #DubrovnikTravel #CroatianBoutiqueHotels #KazbekDubrovnik #UncommonHotels #UniqueStay #TravelCroatia #BoutiqueGetaway #DubrovnikCharm