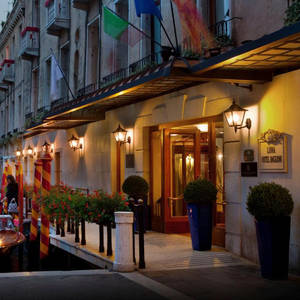 Just a stone's throw away from the iconic Saint Mark's Square, the Baglioni Hotel Luna is a remarkable hideaway, sitting comfortably at 262 feet away. Its interiors are a feast for the eyes, boasting original frescoes and offering unparalleled views across the lagoon. This luxury 5-star haven ensures an unforgettable Venetian experience right in the heart of the city.
The rooms at Baglioni Hotel Luna radiate elegance and spaciousness, adorned with antique furniture and sparkling Murano glass chandeliers. Each marble bathroom is equipped with a hairdryer, and every room is air-conditioned, complete with a TV and mini-bar. Select suites offer the privilege of waking up to a breathtaking lagoon view.
Every morning, guests can indulge in a sumptuous buffet breakfast in the grandeur of the frescoed Salone Marco Polo hall. Throughout the day, Caffè Baglioni presents an array of drinks and snacks, perfectly paired with a charming little canal view. For a taste of Venetian cuisine paired with fine wines, the award-winning restaurant, Canova, is a must-visit.
Adding to the splendour of this 5-star hotel is its private dock, where guests can make a grand entry by motorboat or gondola, embracing that quintessential Venetian charm. For those preferring a more traditional route, the San Marco-Vallaresso Vaporetto water bus stop is conveniently located just 164 feet away.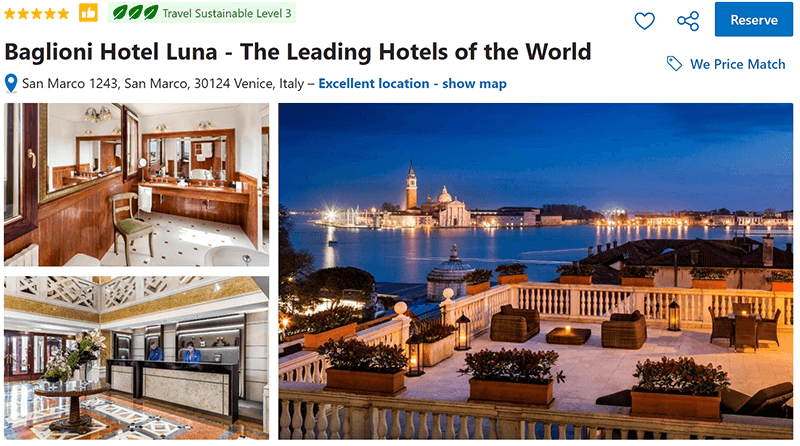 HASHTAGS
#BaglioniHotelLuna #VenetianLuxury #ItalianElegance #VeniceExperience #LunaVenice #CanalCityAdventure #VenetianHotelExperience #ItalianHospitality #GondolaRides #LuxuryInVenice #VeniceItaly #BaglioniExperience #ItalianArchitecture #HistoricVenice #BaglioniLunaHotel