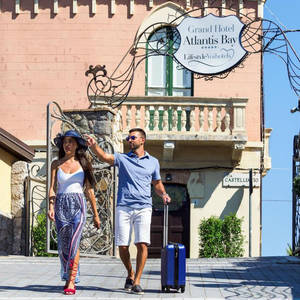 Perched on a stunning cliff edge in the breathtaking Baia delle Sirene Bay, you'll find the remarkable Atlantis Bay, a place where beauty and luxury intertwine.
What catches the eye is the property's panoramic restaurant, complete with a charming veranda. It's not every day you get to enjoy a meal whilst gazing out at an endless sea view. Now, that's an experience that truly captivates the senses.
One mustn't forget the sublime swimming pool or the private floating sea platform. Imagine taking a dip in the cool waters, the sea breeze gently ruffling your hair. It's the perfect place for a spot of relaxation and tranquillity.
At Atlantis Bay, they understand that food isn't just food - it's an art form. A grand gourmet culinary experience awaits each guest, with particular attention to detail that will impress even the most discerning palate.
And if you thought it couldn't get any better, seaside dining is also on the menu. Delight in the freshest ingredients as you dine al fresco, the gentle lapping of the waves creating the perfect dining soundtrack.
HASHTAGS
#AtlantisBay #VRetreats #TaorminaGetaway #LuxuryRetreats #ItalyTravel #SicilianEscape #LuxuryResorts #UncommonTravel #UniqueDestinations #TaorminaItaly #VRetreatsExperience #AtlantisBayResort #ItalianLuxury #SicilianParadise #VacationGoals