Picture a luxurious lifestyle hotel ensconced in the heart of Prague's historic center, the Andaz Prague. Sitting on the regal Senovážné Square, it's a stone's throw from the city's most iconic landmarks. Wander to the Wenceslas Square, stroll to the Old Town Square, or relish the architectural majesty of the historic Municipal house, all within a comfortable stroll from the hotel.
At the ZEM restaurant, prepare your palate for an innovative culinary experience. Savour the avant-garde Czech bistronomy, all masterfully crafted from locally sourced ingredients and given a unique twist with Japanese Izakaya accents. As the evening wears on, the MEZ bar awaits with its signature cocktails to start your night on a high note.
The Klara Rott spa is a sanctuary of relaxation within the hotel. Lose yourself in a plethora of beauty and body treatments that soothe and rejuvenate. The Finnish sauna and steam promise a detoxifying retreat, while the gym caters to those looking for a more active form of relaxation.
Enjoy free Wi-Fi throughout the building, while secure private parking is available at the front of the hotel or in the underground garage. Valet services are at hand for your convenience. For the eco-conscious, an EV charger is available in the outdoor parking lot.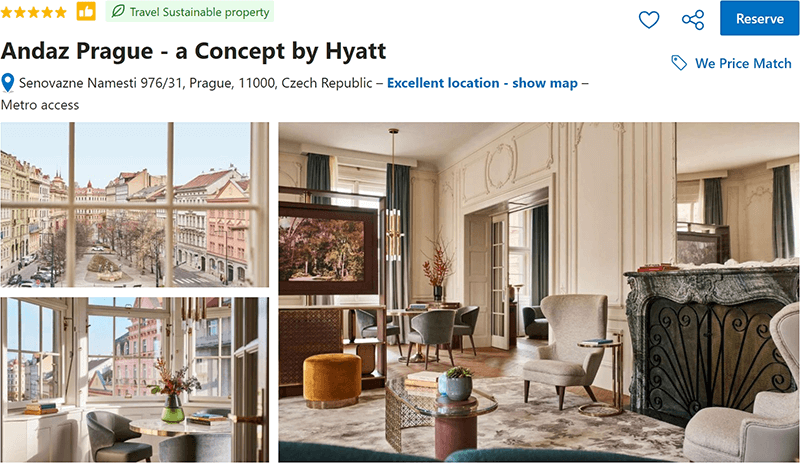 HASHTAGS
#AndazPrague #PragueExperience #CzechRepublic #BohemianCulture #PragueLife #EuropeanDestinations #LuxuryInPrague #PragueSights #AndazHotel #PragueLuxury #OldTownPrague #CzechTravel #UnseenPrague #PragueDiaries #CzechJewels