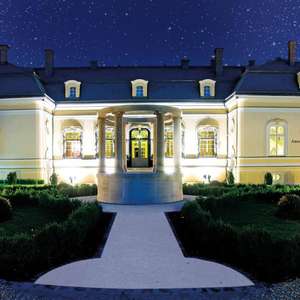 Picture yourself in Vrakúň, residing in a 5-star boutique hotel nestled in the heart of Rye Island. Exquisite elegance meets comfort in the beautifully decorated rooms, presenting hand-painted wallpapers, hand-woven blankets and unique décor. For those who enjoy a breath of fresh air in their own private space, some rooms even come with a patio or terrace.
The hotel's amenities are a delight, boasting an indoor pool to relax, a traditional Turkish spa for a unique wellness experience, and a conference room for your professional needs. And that's not all, wine connoisseurs and cigar aficionados are not left out. With a wine cellar and cigar room, you're in for an indulgent treat.
Convenience is key here, with room service available all day, and free valet parking on site. Indulge in the local flavours at the Château Amade's restaurant, serving traditional Slovak cuisine while you enjoy the scenic view of the English garden. For the sweet tooth, a patisserie with hand-painted nature scenes offers fresh pastries and cakes.
Evenings are a treat, with the Lobby Bar offering fireside cocktails. For leisure, make the most of our sun terrace, outdoor and indoor pools, and a Turkish hammam with traditional treatments. Sports enthusiasts can enjoy a game of tennis or badminton, or explore the local area on rental bicycles.
When you feel like stepping out, Dunajská Streda's town centre is just 10 km away, with Bratislava Airport only around 40 minutes' drive. For car enthusiasts, the Slovakia Ring is 15 km away. Golf lovers can head to the Golf Club Welten Golf Course, only 20 km away, while horse racing fans can visit the Hippo Arena Šamorín Race Track, 35 km away. Finally, for those who want to venture a little further, Vienna is within 122 km, ready to be explored.