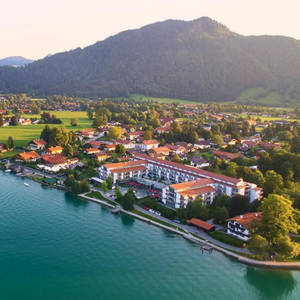 Perched majestically on the banks of Lake Tegernsee, take in the splendour of this illustrious 5-star haven, boasting a luxurious spa sanctuary and an array of award-winning dining experiences across five gourmet eateries. The Althoff Seehotel Überfahrt presents a serene sojourn with sound-proofed rooms that offer complimentary WiFi and breathtaking panoramas of the Bavarian Alpine foothills.
Every room and suite at the Althoff Seehotel Überfahrt are a testament to elegance, complete with expansive balconies or terraces along with opulent marble bathrooms stocked with complimentary Penhaligons toiletries. Your entertainment needs are also catered to with a satellite TV equipped with SKY channels and a DVD player.
Indulge in the ultimate wellness experience with the 4 elements Spa by Althoff. This serene oasis includes indoor and outdoor pools, an array of seven different saunas, a state-of-the-art gym and a cosy lounge area complete with a fireplace and library. Guests also have the option to book a variety of relaxing massages and beauty treatments for the ultimate pampering session.
Culinary enthusiasts are in for a treat with the hotel's Italian restaurant "Il Barcaiolo" serving up a variety of delectable international cuisine. The "Egerner Bucht" is the perfect spot for those who love grill dishes and alpine specialties, accompanied by an extensive selection of fine wines. For those seeking a more traditional experience, the "Bayernstube" offers a rustic ambiance coupled with a menu of classic Bavarian dishes.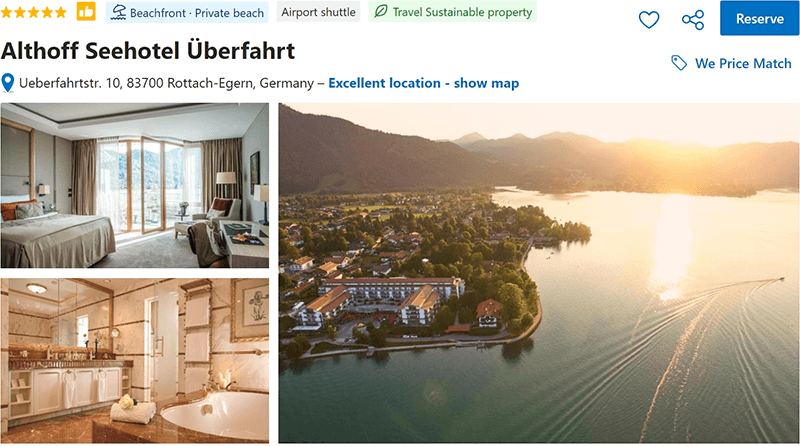 HASHTAGS
#AlthoffSeehotel #Überfahrt #RottachEgern #LuxuryInGermany #BavarianCharm #LakeTegernsee #GermanEscapes #ElegantStay #MountainViews #GourmetExperience #SpaRetreat #FiveStarHotel #BavariaTravel #LuxuryLakeHotel #SeehotelÜberfahrt