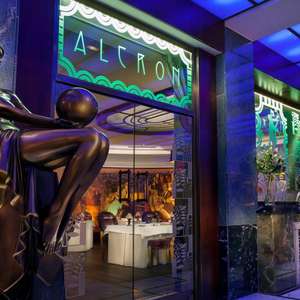 Nestled in the vibrant heart of Prague, a mere stone's throw from the renowned Wenceslas Square, lies an exquisite 5-star lifestyle hotel. A historic gem, it first welcomed guests in 1932 and continues to do so with its timeless charm. Every room in this smoke-free sanctuary, the Almanac X Alcron Prague, is a haven of modern comfort, complete with complimentary WiFi, a host of free TV channels, and a splendid large flat-screen TV.
The wooden flooring adds a touch of warmth to the rooms, while the bathrooms are equipped with showers for a refreshing start or end to your day. The hotel's restaurant, Alcron, will tantalize your taste buds with its innovative plant-forward concept. The menu, curated by the talented head chef Eliška Hromkova, boasts a selection of dishes crafted from seasonal central European ingredients.
And if you're keen to explore, the Old Town Square is a leisurely 10-minute stroll away, while the iconic Charles Bridge is just a 15-minute walk from the hotel. This is the perfect base from which to immerse yourself in the rich culture and history of Prague.
HASHTAGS
#AlmanacXPrague #PragueExperience #PragueLife #CityOfHundredSpires #PragueArchitecture #PragueCulture #CzechRepublic #PragueNightlife #PragueHistory #PragueTour #BohemianExperience #PragueGastronomy #AlmanacPrague #PragueArt #PraguePhotography