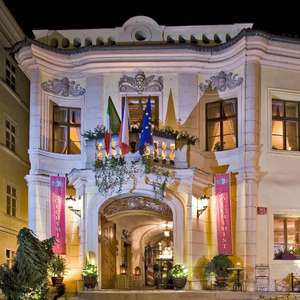 Enviably positioned a mere stone's throw from the iconic Charles Bridge, nestled in the heart of the city's most revered historical quarter, you'll find the distinguished Alchymist Grand Hotel and Spa - a member of the Preferred Hotels & Resorts. This remarkable establishment is situated in a notable landmark building, overflowing with charm and character.
Guests are privy to complimentary WiFi, ensuring they remain connected during their stay. Additionally, the reception desk is staffed around the clock, guaranteeing service and assistance whenever required. Upon arrival, guests are also treated to a complimentary welcome drink, adding a touch of luxury to the check-in process.
Interestingly, the Alchymist Grand Hotel and Spa - Preferred Hotels & Resorts is located within the UNESCO-protected Baroque landmark known as the "House at the Infant Jesus". This historic building boasts a rich history, dating all the way back to the 16th century.
Within the hotel's 11th-century cellars, guests can discover the unique Ecsotica Spa and Health Club. This complimentary facility promises a plethora of fitness, sauna, and pool amenities designed to encourage ultimate relaxation and rejuvenation. A visit here is a must for any weary traveller.
Every morning, a delectable breakfast is served, providing the perfect start to a day of exploration. And, as night falls, guests can indulge in the delightful chocolate pralines provided as part of the evening turn-down service. Pure bliss.